Long after many companies left the long-term care insurance market, Genworth Financial is still standing. For Ward Bobitz, Genworth's executive vice president and general counsel, the need for a private-market alternative to Medicaid funding to address America's long-term care needs couldn't be greater. "Although many carriers have left the industry due to losses in their legacy blocks, we are committed to fixing the industry and helping our nation address the financial challenges of aging," Bobitz said. Learn how this GC is helping the insurance giant stay financially competitive in a tightening market, while working with state regulators to present market-driven solutions that can empower Americans at life's most challenging times.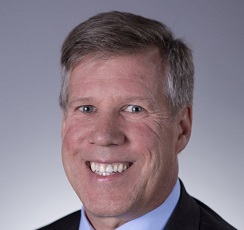 This year marks your 20-year anniversary with Genworth Financial. How has the Fortune 500 company changed during that time?
The short answer is dramatically. When I joined the company, it was known as GE Financial Assurance. We were a newly formed business unit within GE Capital, charged with expanding GE's life insurance business through domestic and international acquisitions to be funded by GE Capital. This exciting period of growth ended with September 11, as the resulting financial markets' disruption caused GE to examine its financial leverage and ultimately determine that it should dispose of most of its insurance businesses.
Our business was combined with GE Capital's mortgage insurance businesses and brought public in 2014, with that year's largest initial public offering – yes, larger than the IPO of Google.
A few years later we entered the global financial crisis, which hit our U.S. mortgage insurance business particularly hard. As that business recovered, we, together with many others in the industry, began observing adverse experience in our legacy long-term care (LTC) insurance business, which led to reserve increases, ratings declines, and some hard decisions regarding the divestiture of our non-core businesses, expense actions, and a two-year-long strategic review that led to our agreement in October 2016 to be acquired by China Oceanwide Holdings Group.
Your tenure as general counsel coincided with these developments. What challenges has the proposed purchase by China Oceanwide presented to you and the legal department?
The deal created challenges for every part of the legal department. Our business lawyers responded to numerous due diligence requests; our M&A lawyers evaluated multiple strategic options and negotiated transaction documents; our corporate governance and securities lawyers guided our board through the decision-making process and prepared the proxy statement; our litigators had to defend litigation challenging the deal; and our regulatory lawyers identified and have been seeking the required governmental approvals.
There was also significant work associated with the strategic review that wasn't part of the deal. As examples, our labor lawyers addressed employment matters arising from our expense actions, and our U.S. life lawyers handled the suspension of our traditional life and annuity sales while supporting the continued distribution of our LTC insurance products. Everyone in the department has been involved.
The biggest challenge for the legal department in connection with the deal is obtaining clearance from the Committee on Foreign Investment in the United States (CFIUS) for our acquisition by a Chinese entity. It is the one regulatory approval with which we did not have prior experience. Unfortunately, the environment for Chinese investment is challenging and evolving, and CFIUS clearance remains one of the conditions that still must be satisfied in order for the transaction to close.
Moving on to Genworth's operations, what are the greatest challenges – and opportunities – you see in helping Genworth Financial solidify its two main market segments: mortgage insurance and long-term care insurance?
From a mortgage insurance perspective, the industry has largely addressed the challenges associated with the housing collapse. However, housing finance reform still has not been tackled by the U.S. government. We believe housing finance reform presents a great opportunity to place private capital, in the form of mortgage insurance, in front of the government backstop for government-sponsored enterprises (GSEs).
From an LTC perspective, our greatest challenge is addressing our legacy block of business, which has already lost over $2.5 billion. We are not attempting to recover those losses, but we are trying to get to 'break even' going forward through actuarially justified premium rate increases. We understand the burden that these rate increases place on our policyholders, so we work with our regulators to offer alternatives to paying the full increase, including benefit reductions or a fully paid-up policy with a limit equal to premiums previously paid, which will keep coverage in force.
Although many carriers have left the industry due to losses in their legacy blocks, we are committed to fixing the industry and helping our nation address the financial challenges of aging, in part because the need for LTC insurance is clear: One in six people in the U.S. will be age 65 or older by 2020, nearly 70 percent of people who reach age 65 will need some form of long-term care, and 43 percent of 85-year-olds will develop severe dementia or Alzheimer's.
LTC insurance is also making big headlines as Medicaid's role in nursing home care becomes greater. What additional challenges do you see ahead in offering LTC insurance to consumers, while still turning a profit?
The current LTC insurance regulatory model doesn't work, as evidenced by the billions of dollars of losses the industry has sustained and the number of carriers that have left the market.
Given the clear and growing need for a private market alternative to Medicaid funding our nation's LTC needs, we have been working with certain forward-looking state regulators to develop a new regulatory framework that provides for annual and earlier single-digit adjustments (up or down) to premiums, as claims experience emerges, similar to the way other lines of insurance are rated. This will result in smaller, more frequent adjustments of premiums, which will be easier for policyholders, carriers, and regulators to manage.
As you look to 2018, what can we expect next from you as Genworth Financial GC?
Genworth Financial has a strong commitment to supporting charitable giving, both in terms of money and volunteer hours. This can be seen in our LTC business celebrating caregivers' unselfish support of loved ones needing assistance and in our work with Habitat for Humanity to place and keep families in homes. In recent years, our department has not been able to allocate as much time to volunteer efforts as we would have liked, given our focus on strategic matters. In 2018, I hope to shift the department's attention from deal-related work toward greater community involvement and pro bono activities.
Is there anything else you'd like to add we have not covered?
I would like to give credit and thanks to the members of the Genworth Legal and Compliance Department for their perseverance, dedication, and extraordinary performance during the past few years. It is a very strong team that has been asked to do the impossible over and over again and has delivered through great effort and personal sacrifice. When you have a strong team, the key to managing through extraordinary times like our strategic review is to trust them, communicate constantly, and sincerely appreciate their work.
This profile originally appeared in In-House In Brief, a biweekly newsletter of Big Law Business and the In-House Council. To receive up-to-the-minute news and analysis curated specifically for in-house counsel, subscribe for free today. Learn more about the In-House Council event series.