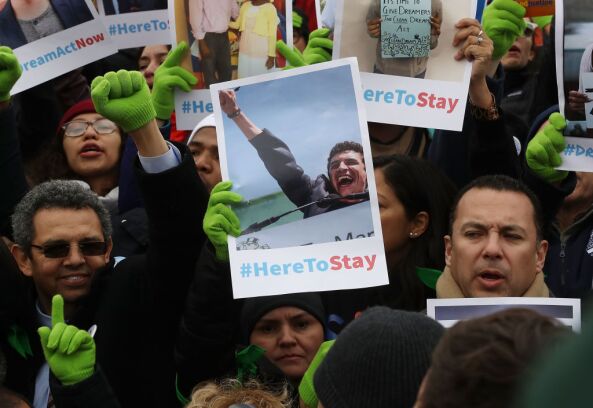 Photo by Mark Wilson/Getty Images
Outlook 2018: 'Dreamer' Bill Possible Amid Immigration Stalemate
Dec. 20, 2017
A measure to provide legal status to "dreamers" may be the only immigration legislation passed in 2018, and even that isn't a sure thing.
"The tone of the debate, in a nutshell, is really being set by the White House," Rebecca Peters, director of government affairs for the Council for Global Immigration, said.
In October, the White House sent a list of immigration priorities to Congress, including increased border security, bolstered interior enforcement, and a shift to a merit-based immigration system. Republicans in Congress are "using these as very high-level guidelines as they're working on legislation this session," even though they were "considered nonstarters" by many on both sides of the aisle, Peters said at the Practising Law Institute's Immigration and Naturalization Institute.
Those priorities also are informing the debate over young, undocumented immigrants who came to the U.S. as children, Peters said. Legal status for dreamers "has really become the No. 1 issue up on Capitol Hill as far as immigration is concerned," she said.
The urgency arose in early September when the Trump administration announced the end of former President Barack Obama's deferred action for childhood arrivals program. The program to provide deportation protection and work permits to dreamers officially ends March 5.

'Congress Will Try'
"I think Congress will try to do something," Vic Goel of Goel & Anderson in Reston, Va., told Bloomberg Law. There are "realists" in both parties who recognize the political implications of inaction, he said.
But whether Congress can agree on a legislative measure before DACA's sunset is "the big question," Peters said. "If there is any solution," Congress is likely going to push it right up to the deadline, she said.
The stumbling block appears to be each side's view of "proportionality"--the scale of what each side must concede in order to get what it wants in the bill, said Theresa Cardinal Brown, director of immigration and cross-border policy for the Bipartisan Policy Institute.
Republicans want to see "significant progress on immigration enforcement," but "that progress comes at the expense of many dreamers' families," which Democrats are "skeptical about," Brown said during a press call.
"There may be some areas that could breach this divide," she said. Possibilities include portions of bills that have already passed the House, such as tougher penalties for undocumented immigrants who commit crimes and re-enter the U.S. after being deported, or measures that crack down on gang activity, Brown said.
"It really is going to matter whether both sides are willing to start coming towards each other a little bit," she said.
The two sides are still talking, so "there's always room for hope," Brown said in response to a question from Bloomberg Law.

Deadline Consequences
"It's back in the hands of the president" if Congress fails to act by March 5, Austin Fragomen of Fragomen, Del Rey, Bernsen & Loewy in New York said at the PLI event. Will President Donald Trump start deporting the 800,000 immigrants covered by DACA? "We rather doubt it," he said.
U.S. Citizenship and Immigration Services' policy of not proactively sharing DACA applicants' personal information with Immigration and Customs Enforcement also hasn't changed, USCIS Director L. Francis Cissna said at the Citizenship and Immigration Services Ombudsman's annual conference.
Even if Congress does reach agreement, it's going to take several months for the USCIS to implement a program, and even longer for applicants to obtain benefits, Brown said. "The longer Congress waits to do this, the more people are affected," she said.
DACA beneficiaries are going to lose their jobs once their work permits expire, Brown said.
It's also a "concern for the employer" because federal law prohibits employers from knowingly employing unauthorized immigrants, Peters said. That means they'll have to fire employees whose work permits expire and find a way to fill those vacancies quickly if they can't find another lawful immigration status, she said.

Other Legislation Unlikely
There seems to be little hope for passage of other immigration legislation in 2018.
"It is challenging" for Congress to agree on anything in election years, Peters said.
But "where issues are dealt with just a little bit more narrowly" there's a greater chance of immigration legislation gaining traction, Betsy Lawrence, director of government relations for the American Immigration Lawyers Association, told Bloomberg Law.
For example, the House Judiciary Committee in November approved, with bipartisan support, a bill (H.R. 170) that would change the requirements for when employers that hire a large number of workers on H-1B specialty occupation visas have to attest that U.S. workers aren't being displaced.
The Fairness for High-Skilled Immigrants Act (H.R. 392) also keeps "popping up," Lawrence said. The bill, which would eliminate per-country caps on employment-based green cards, has 301 co-sponsors.
There are also bills pending in Congress that are likely to inform the debate, even if they don't become law, Peters said.
They include the RAISE Act (S. 1720), which would cut legal immigration in half and replace the current employment-based green card system with a points-based merit immigration system. In addition, the H-1B and L-1 Visa Reform Act (S. 180) would overhaul the temporary visa programs to protect against fraud and prevent displacement of U.S. workers.
There will be a lot of hearings and "pomp and circumstance" in committee, but not much beyond that, Peters said.