---
• Security clearance denial can derail career for those that need access to confidential information
• Lawyers can help smooth process
---
Diploma? Check. Updated resume? Check. Recent references? Check. Security clearance? Uh-oh.
Getting or renewing a security clearance is the final step in landing or keeping a job for many applicants for federal civilian and military jobs, and the stakes can be high.
"If your entire life is based on your job, but your job is based on your clearance, everything is essentially jeopardized" if the clearance doesn't come through, Charles McCullough III, the chair of the national security practice group at Tully Rinckey, told Bloomberg Law.
Finding any kind of employment can be hard for people whose security clearance applications are denied. An applicant who finds himself out of a job after 20 years as an intelligence analyst has skills that "are not really transferrable to a job that doesn't require a security clearance," Sean Bigley told Bloomberg Law March 7. Bigley is the managing partner of Bigley Ranish, which specializes in security clearances.
Lawyers who specialize in this niche field can help applicants who encounter glitches, Mary Kuntz, a partner at Kalijarvi, Chuzi, Newman & Fitch, told Bloomberg Law. "The success rates are much higher for people who are represented by attorneys than those who are not," Kuntz said.
White House Clearance Woes
Security clearances received heightened attention recently following reports that several top White House officials—including the President's son-in-law and close adviser Jared Kushner and former White House staff secretary Rob Porter—were using interim security clearances while their clearance investigations dragged on.
Such publicity increased "the bitterness toward the process by people who think it's not fair," Kuntz said. "They're aware that their clearance has been called into question for far less."
It's unclear how frequently applicants encounter problems with their security clearances. "Probably 5 to 10 percent of the people who go through the process experience some degree of issues," Bigley estimated. Recent government data isn't readily available.
The Office of Personnel Management didn't respond to Bloomberg Law's request for statistics on security clearance denials and revocations.
Denial Rate Unclear
"The last year we saw a comprehensive publication on data from the Intelligence Community, via the Office of the Director of National Intelligence, was in 2015," Lindy Kyzer, a senior editor for Clearance Jobs, told Bloomberg Law in a series of e-mails. Clearance Jobs is a career networking website for people with an active federal security clearance.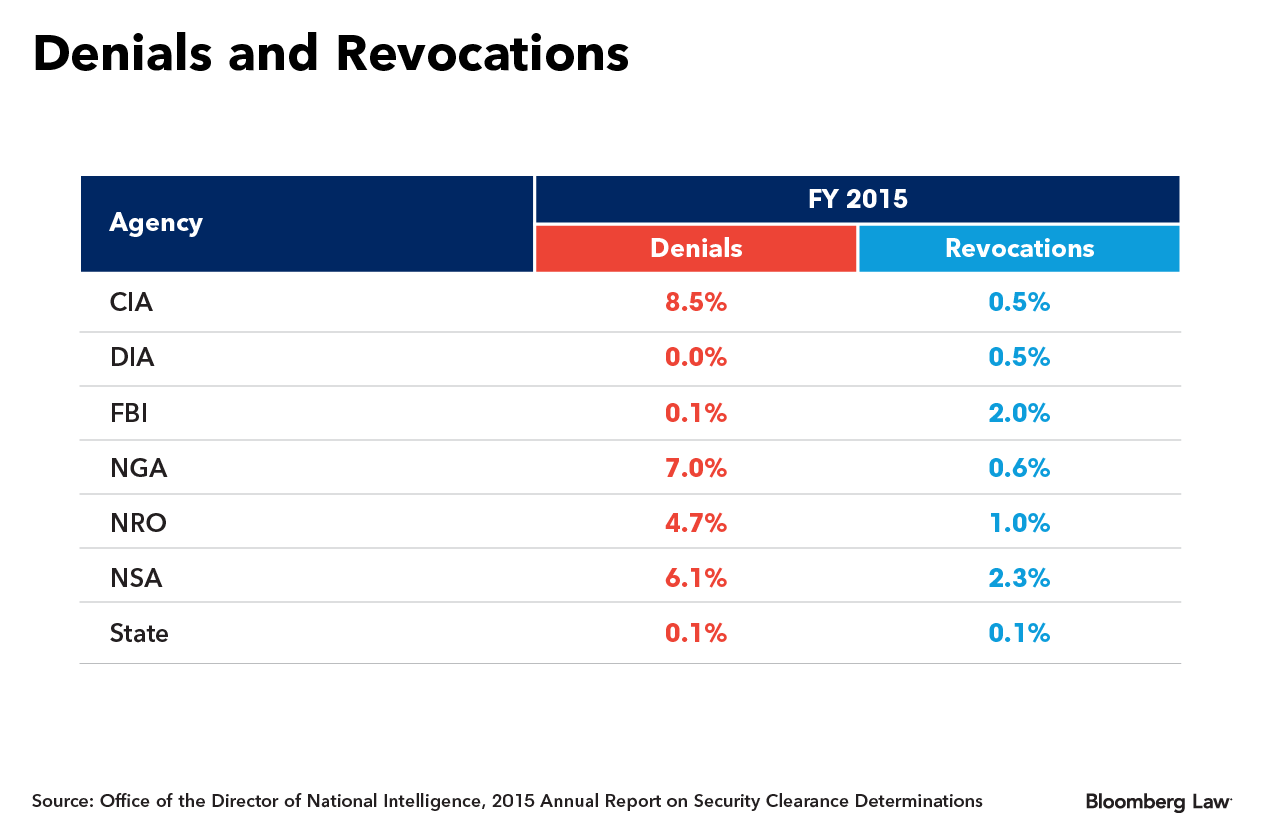 That data show that for fiscal year 2015, the Central Intelligence Agency had the highest denial rate, at 8.5 percent, followed by the National Geospatial-Intelligence Agency at 7 percent. The highest revocation rate was 2.3 percent at the National Security Agency, followed by 2 percent at the Federal Bureau of Investigation.
These rates may not be representative of the government as a whole because the intelligence community "makes up a relatively small number of clearance holders," Kyzer said. "The denial rate for the DoD (which issues more than 90 percent of security clearances) has traditionally been reported at one percent to three percent," she said.
Withdrawing Before a Rejection
More applicants than that may have trouble getting approved, however. "That number is slightly misleading, as most individuals who receive unfavorable feedback from their agency or have the sense they won't receive a favorable determination drop out of the process before a final determination is made," Kyzer said.
An applicant starts the process by filling out a form asking about finances, criminal history, foreign travel, drug usage, and other matters. Most federal agencies base their decision on an investigation conducted by the Office of Personnel Management's National Background Investigations Bureau. Some intelligence agencies conduct their own investigations, security clearance lawyers told Bloomberg Law. Security clearances normally are renewed every five years for the top secret level and every 10 years at the secret level.
"The burden of proof is on the applicant that it is clearly consistent with the interests of national security that they have a clearance. That's a fairly high bar," Bigley said. The guidelines for attaining a secret as opposed to a top secret clearance are the same, but the difference is "the intensity of the background investigation," he said. The procedures for revocation are the same as for denial.
About 4 million people have a U.S. security clearance, Bigley said.
Guiding Principles
Executive Order 12,968, issued in 1995, laid out the principles governing the security clearance process. If an agency denies a clearance, the applicant has an opportunity to conduct discovery and respond in writing. For example, an applicant could provide a letter of explanation and affidavits from other people.
"A lawyer could help the applicant write his letter and write a legal memo if there's a legal issue," Kuntz said.
McCullough suggests attaching family photos to any statements the applicant submits.
If the agency stands by its decision, the applicant may request a hearing before an administrative law judge at the agency. "We ask for a personal appearance" whenever possible, Kuntz said.
McCullough, too, likes proceedings where he can introduce character witnesses for his clients. "You're trying to show the adjudicators this is a human being, not just a number," he said. If the process isn't going well, he tries to negotiate an opportunity for his client to resign from his job rather than be terminated for inability to get a security clearance.
If the ALJ upholds the denial, an applicant may request consideration by a panel composed of a few high-ranking officials from the agency.
Finances, Foreign Links Raise Red Flags
"Year after year, the number one reason [for denial] is financial issues," including unfiled taxes and delinquent debts, Bigley said. The investigators' concern is that "you're at increased risk of committing espionage because you're living at the edge financially."
Another concern for investigators is an applicant's contacts with people overseas or ownership of overseas property, Bigley said. Even ownership of an overseas apartment where an aging parent lives could be grounds for concern, Kuntz said.
The next most common reasons for denial are drug and alcohol use and inappropriate sexual behavior, Bigley said. The reasons for denial "vary depending on the agency," he said. For example, the Drug Enforcement Administration is more concerned with drug infractions than some other agencies.
Different age groups tend to have different types of security clearance problems, McCullough noted. Younger applicants may be red-flagged because they used illegal drugs during college or downloaded music without paying. By contrast, a 40-something applicant may have financial problems brought on by a divorce or children's college tuition bills, he said.
Applying Again After Fixing the Problem
An applicant who is denied a security clearance may apply again after a year, the lawyers said.
The passage of time is important, Kuntz said. Smoking pot in college may not disqualify applicants at some agencies if it happened years ago, and a 10-year-old bankruptcy may not disqualify an applicant who pays his bills promptly.
Other problems, such as heavy use of pornography, may not be so easy to overcome, Bigley said.
The security clearance process is "entirely administrative," with no court involvement, Bigley said. That means there's "a real lack of remedies" for applicants who are denied.
Applicants who are denied a clearance because they blew the whistle on wrongdoing, however, may have a whistleblower retaliation case, Bigley said, but "there aren't a lot of these cases." Bigley said he sees only about two in the 200 to 250 cases his firm handles each year.
Peculiarities of Security Clearance Defense
A legal practice focused on security clearances presents some unique challenges.
For one thing, it's hard for a lawyer to know what an agency is looking for. Security clearance proceedings are kept private to protect applicants' disclosures.
Only two agencies–the Energy and Defense departments–publish their opinions, and those are heavily redacted, Bigley said. "It truly is a matter of experience to know what will and won't fly at a particular agency."
It also can be tough to communicate with clients. Thirty to 40 percent of Bigley's clients are overseas, so his firm "invested a lot in our technology from the security and the privacy perspective," Bigley said. "The exposure of their identities could lead to personal harm."
Despite the complexity of security clearance defense, "this is very rewarding because you get to deal with your clients on a very personal level," Bigley said. "When you can tell a client you can go back to work, your 20-year career isn't down the tubes, it's very rewarding."
To contact the reporter on this story: Gayle Cinquegrani in Washington at gcinquegrani@bloomberglaw.com
To contact the editor responsible for this story: Terence Hyland at thyland@bloomberglaw.com