FS Investments is on a mission to transform the investment landscape. Since joining the alternative asset manager in 2014, Lisa Detwiler, general counsel of FS's broker-dealer subsidiary, FS Investment Solutions, has helped deliver on the company's vision of broadening wealth-building opportunities to reach the general investing public.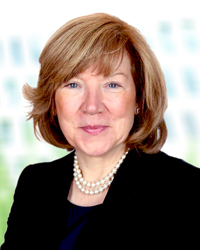 Along the way, Detwiler has helped the firm grow from approximately $11 billion in assets under management to $20 billion today. "I'm excited about where the firm is today relative to where we were when I first joined, and where we are going," Detwiler said.
Learn how Detwiler and her team have helped the firm produce a steady stream of fund launches – nearly half a dozen, this past year – while striving to meet the best interests of investors through strong lines of communication with regulators.  
FS Investments recently celebrated its 10th anniversary. What's different today than when the company started?
Michael Forman, our chairman and CEO, started Franklin Square Capital Partners in 2007 with a simple, yet ambitious mission: to provide the investing public with the same access to alternative sources of income and growth that had historically only been available to institutional and the wealthiest investors.
Ten years later, the mission is unchanged, but the ways in which we provide that access has. We launched our first fund, FS Investment Corporation, in 2009, which primarily invests in private U.S. middle market credit. Now, we have 10 funds with multiple top-tier partners across several different asset classes that offer investors different liquidity profiles. Our assets under management have grown to over $20 billion.
Throughout our firm's history, we've been constantly evolving. As such, we've positioned ourselves to be a one-stop source of alternative investments for the investing public, and we continue to diversify our product offerings.
You talk about having multiple top-tier partners and sub-advisers. In that spirit, you recently announced partnerships with the global investment firm KKR and energy investment firm EIG Global Energy Partners. Tell us about that.
With KKR, we are forming an unparalleled business development company platform, which will have $18 billion in combined assets under management – this is, by far, the largest in the industry. And with over 35 years of energy investing experience, EIG is now partnering with FS to jointly manage FS Energy & Power Fund, a $4 billion energy business development company that primarily invests in debt securities of private U.S. energy and power companies.
We are very excited about these partnerships and what we believe they can deliver for investors, which is additional scale, investment specialization, cultural fit, and eventually, the ability for FS's fund investors to co-invest alongside KKR's and EIG's respective institutional investors. That last point is mission-critical .
In addition to these new partnerships, FS Investments had a steady stream of fund launches in 2017 – FS Energy Total Return, FS Multi-Strategy Alternatives, FS Credit Real Estate Income Trust, and FS Credit Income. What best practices by you and your team have helped drive this steady output? 
Yes, 2017 certainly was a transformational year. FS has been built on a strong culture of compliance, with a tone from the top that emphasizes compliance and risk management. Specifically, we work with our business partners to provide training regarding laws, rules, and regulations that govern different aspects of the new products, including marketing, distribution, and many other issues. Because FS Investments is in a highly regulated industry, our team also ensures that we have systems, policies, and procedures in place to meet all of the respective regulatory requirements.
So whether it's a launch of a new fund or forming new partnerships, our team plays a central role at every stage of the process to ensure that all regulatory requirements are met, both at launch and on an ongoing basis.
As we have added new products, such as open-end funds, a real estate investment trust, and interval funds, we have also expanded our compliance and legal staff to add personnel who have direct experience with the types of new products we're offering. Expanding our team to complement the new product offerings has been critical to our success and has had the benefit of bringing different perspectives to our team. In addition, we have been able to implement a number of technological and organizational efficiencies within our team based on team members' suggestions and their experience in the asset management industry.
Another related development is the addition of a thorough vendor diligence program. We started with a risk-ranking of our most important vendors, developed a meeting calendar for diligence meetings, and have standardized the process for vendor diligence across all of the firm's vendors. We continue to engage in testing and monitoring of our compliance programs and pay particular attention to those areas and compliance issues that are priorities for our regulators.
FS Investment's mission, in part, is to transform the investment landscape – what issues must a general counsel be hyper-attuned to in order to help foster that mission? 
There are basic principles that are core to what we do. First and foremost, the focus must always be on acting in the best interests of the investor. Everything feeds from that.
Adaptability is also key. As the market and regulatory landscape change, firms must adapt and evolve to remain successful. We must constantly strive to maintain a strong culture of compliance, ensure we are properly staffed with the right skill sets to effectively support that business evolution, and work closely with our business partners to help them achieve their objectives.
Lastly, we believe building and fostering a partnership with regulators is critically important. An adversarial relationship is counterproductive – although there are countless examples of that in financial services. The relationships we have with our regulators are constructive because our collective emphasis is aligned with the best interest of the investor. Open, active lines of communication are the foundation.
What is your view of workforce diversity in the asset management industry?
I am pleased to say that over time, there has been great success in the industry, generally, in diversifying the workforce. Many industry trade associations, such as the Money Management Institute, have led the way in developing programs to assist firms' ongoing diversity efforts.
At FS Investments, we have a robust diversity and inclusion program, as well as the FS Women's Network, and a host of other programs aimed at our continued focus on ensuring a diverse workforce.
As you near your four-year mark with FS Investments (previously Franklin Square), what can we expect next from you in your role? 
It's funny, time really flies by. I'm excited about where the firm is today relative to where we were when I first joined in 2014, and where we are going. When I started at FS, we had five funds and approximately $11 billion in assets under management, so the expansion has been remarkable.
Continuing the diversification of our product offerings and distribution channels will be an area of focus for the firm in the near term. We have steadily built out the compliance function to ensure we have the right expertise to navigate a changing regulatory landscape and growing product platform, so we're ready to tackle what lies ahead.
This profile originally appeared in In-House In Brief, a biweekly newsletter of Big Law Business and the In-House Council. To receive up-to-the-minute news and analysis curated specifically for in-house counsel, subscribe for free today. Learn more about the In-House Council event series.