---
Few law firms offer spousal assistance
Some law firms help spouses network, refer them to recruiters
---

Environmental Protection Agency Administrator Scott Pruitt faces criticism for instructing his federal aides to try to line up job offers and a restaurant franchise for his wife after they moved to Washington from Oklahoma, where he served as state attorney general.
Most lawyers don't attract as much publicity when they settle in a new city, but many others also have spouses who have trouble re-establishing their careers after relocating.
Attorneys who work in law firms tend not to move as frequently as corporate executives because of state bar admission requirements, but lawyers who work in corporate legal departments and younger lawyers returning to their home state a few years after law school may discover their spouses encounter difficulty establishing careers in a new setting.
Many spouses could find themselves in this situation. The Association of Corporate Counsel found that 16 percent of the 1,800 in-house lawyers who responded to its in-house trends report relocated in 2016-17.
"In-house counsel are far more mobile than outside counsel because of multijurisdictional practice rules," Susanna McDonald, vice president and chief legal officer of the association, told Bloomberg Law. Most states allow in-house counsel to practice for their sole client regardless of the jurisdiction that admitted them to the bar, she said.
Workers Don't Stay Put
Statistics indicate that workers in professional jobs don't stay put. In 2016 to 2017, U.S. Census data show 674,000 people in professional occupations and 265,000 people in the professional and business services industries moved for a new job or job transfer. Presumably, many people making long-distance moves have spouses who also will need to find a job.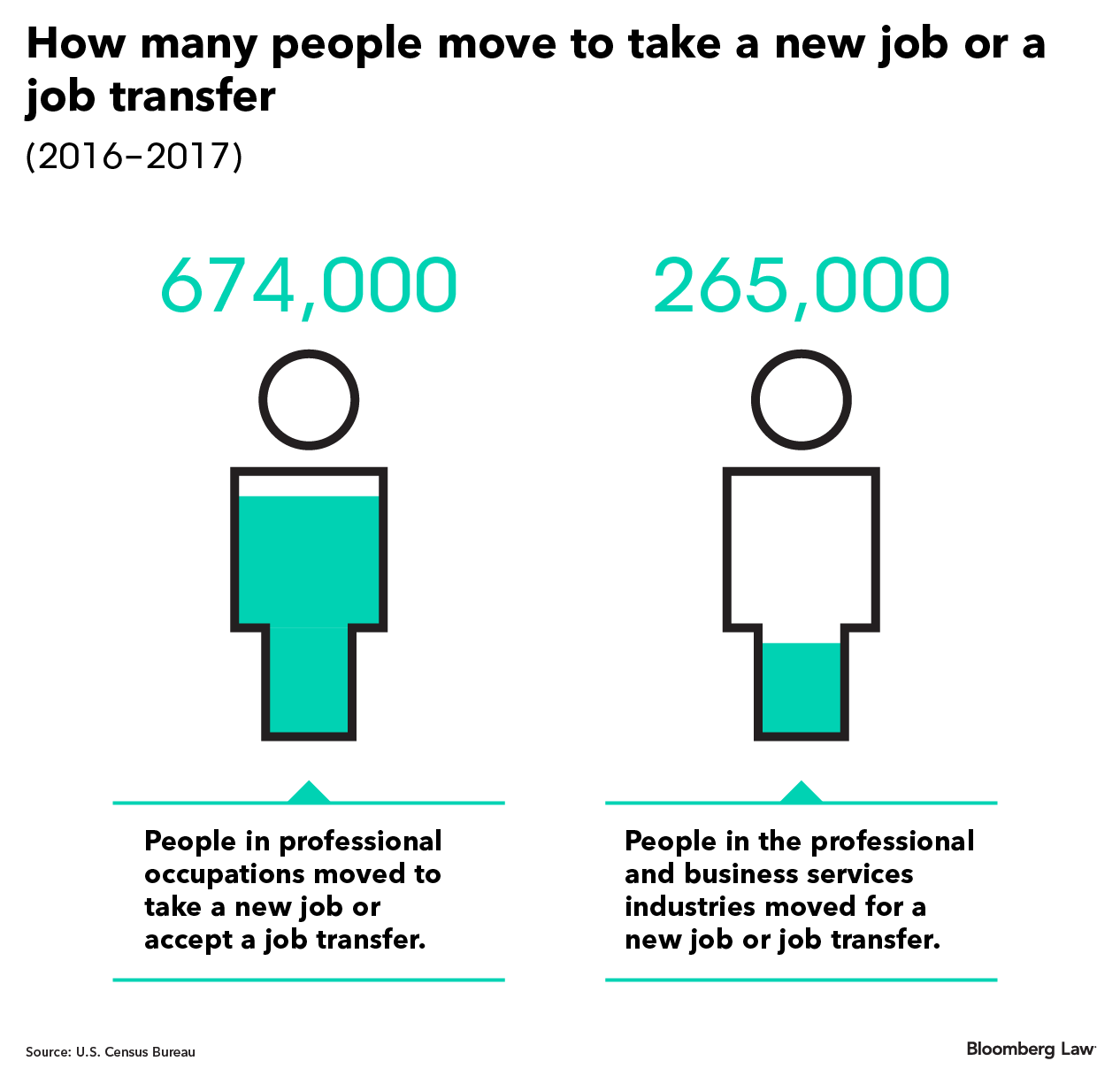 Add in the fact that an increasing number of jobs require a license to work, and barriers for the trailing spouse mount up. More than 1 in 4 jobs in the U.S. require a license to work.
Law firms generally will "pay for the relocation expenses," such as "moving the household," but "they typically don't do a lot for the spouses," Harrison Barnes told Bloomberg Law June 5. Barnes is the chief executive officer of BCG Attorney Search in Malibu, Calif.
By contrast, companies in some industries "have a 'trailing spouse program' designed specifically to give employment assistance to spouses of the relocating attorney," Adrianne Kalyna told Bloomberg Law in an email. Kalyna is an executive managing director at attorney placement firm Mestel & Co. in Chicago.
Such forms of "spousal assistance" are more likely to occur when an employer recruits a candidate for "a very highly specialized" job, Ashley Inman told Bloomberg Law. This occurs "particularly with the sciences," where there may be only a few scientists in the nation performing a specific kind of research, she said.
Inman said she came upon that "very frequently" during her six years at the University of California, where she helped relocate professors. Inman is now a talent specialist with Ferrovial Services in Austin, Texas.
Sometimes recruiters would look for job vacancies elsewhere in the university or provide "a third-party vendor service" to assist the spouse with resume-writing, LinkedIn networking, and electronic job alerts, she said.
Companies and law firms that don't have this type of program "often help by giving suggestions of companies to contact in the new location," Kalyna said.
Helping Spouses Network
Nick Goseland, a principal at legal recruiter Lateral Link in San Francisco, also has seen law firms help trailing spouses to network even though he's unaware of any law firm programs specifically designed to assist them. Lawyers from the firm recruiting the candidate are often "very well-connected in the market," with "clients in varying industries, so they can make introductions that are helpful" for the accompanying spouse, Goseland told Bloomberg Law. This practice is "not widespread, but I've seen a couple examples of it," he said.
Jamy Sullivan, executive director of legal staffing company Robert Half Legal, told Bloomberg Law June 6 that she's seen law firms offer to connect relocating lawyers' spouses with a recruiter or career coach.
"My advice to the trailing spouse is to work with a trusted recruiter or staffing agency with a national network," Kalyna said. She also advises spouses to consider contract opportunities because "in many cases, a 'temp' assignment turns into a full-time position."
Making Licenses More Portable
Add in the fact that an increasing number of jobs require a license to work, and barriers for the trailing spouse mount up. More than 1 in 4 jobs in the U.S. require a license to work, whereas in 1950, only 1 in 20 jobs required an occupational license, according to the Labor Department.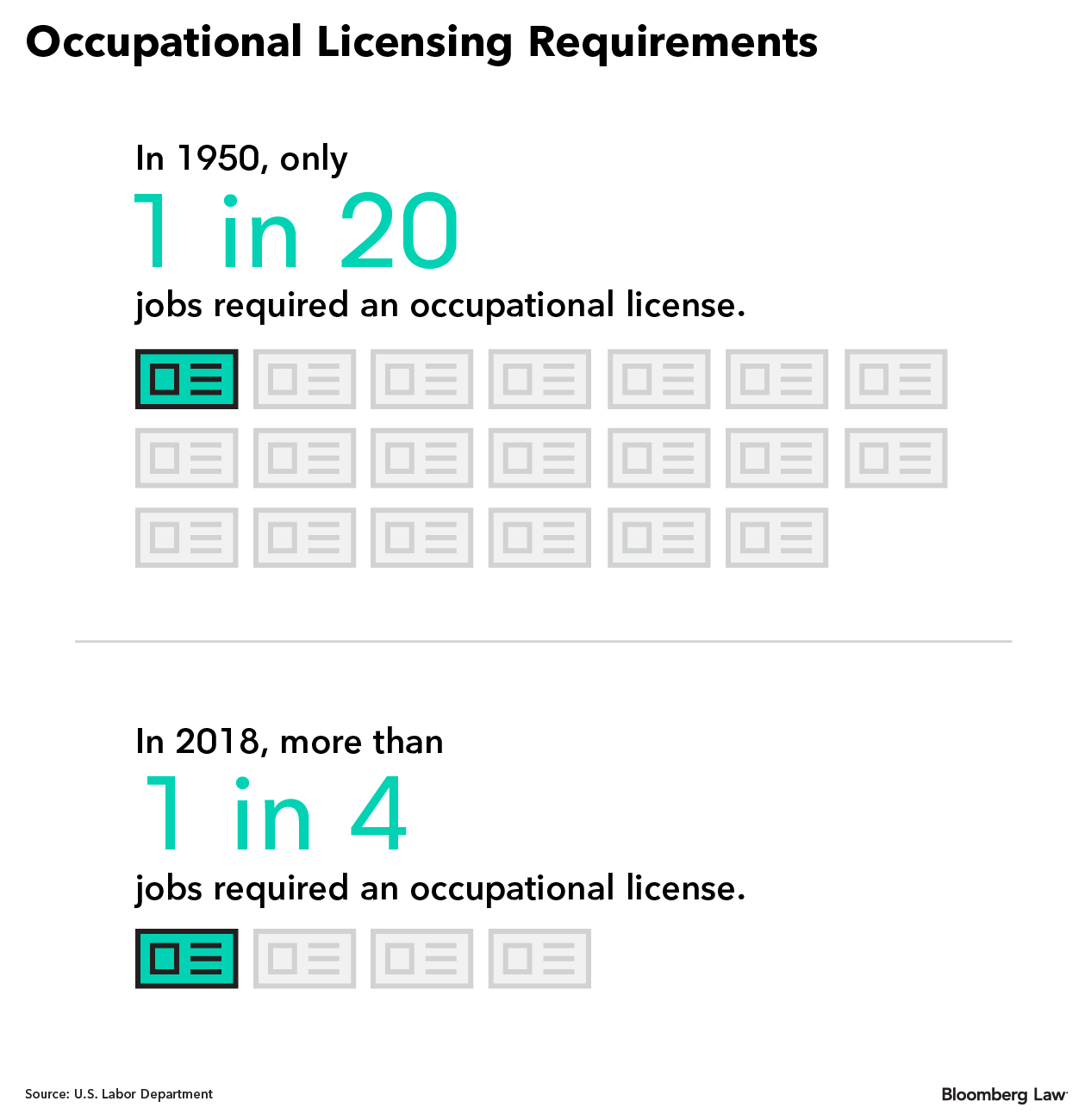 In an attempt to make it easier for workers to move, the department announced in April up to $7.5 million in funds for states, educational institutions, and occupational licensing entities to study ways to change licensing requirements and encourage states to accept each others' credentials.
If a person looking for a new job is married to someone whose line of work requires an occupational license, that person should concentrate the job search "on locations that have reciprocity" for licensing purposes with the area where the couple currently lives, Inman suggested.
If the trailing spouse is an attorney, going in-house to a corporate legal department could be the answer. For in-house counsel positions, "corporations don't care. An attorney does not have to pass the bar" in the new jurisdiction as long as they are admitted in another jurisdiction, Barnes of BCG Attorney Search said.
Job placements occasionally fall through because the candidate worries the spouse won't land a new job. "I had a candidate recently in Canada who didn't transition because she wasn't confident her partner could get work here," Goseland said.
"If the family is not pleased with the move, the chances of having a failed relocation go up," Taryn Kramer told Bloomberg Law June 19. Kramer, the vice president of global consulting at SIRVA, a global relocation management company.
"In the past few years, companies are starting to look at the experience more holistically," and "to provide more support for the extended family, such as spouse and children," Kramer said. Companies are beginning to realize that spousal assistance is a "low cost option that is really high-impact," she said.
To contact the reporter on this story: Gayle Cinquegrani in Washington at gcinquegrani@bloomberglaw.com
To contact the editor responsible for this story: Peggy Aulino at maulino@bloomberglaw.com